The wine region of Rioja, Spain.     (Coming Soon)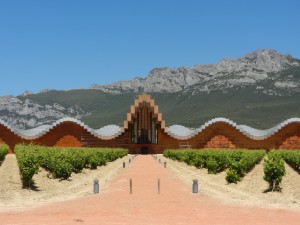 The Rioja wine region is located in northern Spain, on both sides of the River Ebro.
Rioja consists of 3 regions: Rioja Alta, Rioja Baja, and Rioja Alavesa.
In Rioja Alavesa there is a significant influence of the Atlantic climate and the soils are chalky-clay situated in terraces and small plots. In Rioja Alta the climate is also mainly Atlantic, while the soils are chalky-clay, ferrous-clay or alluvial. Rioja Baja has a drier, warmer climate, thanks to the Mediterranean influence.
Rioja is a privileged region for growing grapes and making top-quality wines, with a unique personality and an exceptional aptitude for ageing. The Rioja wine region is located in northern Spain, on both sides of the River Ebro. Rioja has 63,593 hectares of vineyards that are divided between three provinces, La Rioja (43,885 ha), Alava (12,934 ha) and Navarre (6,774 ha).
One hundred kilometres separate Haro, the westernmost town, from Alfaro, the easternmost. The valley has a maximum width of about 40 kilometres, covered in vineyards which occupy successive terraces to an altitude of about 700 metres above sea level. The whole area benefits from the confluence of two distinctly opposed climates -Atlantic and Mediterranean- which provide mild temperatures and an annual rainfall of slightly above 400 l/m2 -ideal conditions for growing grapes.
The three areas all have distinct characteristics. In Rioja Alavesa there is a significant influence of the Atlantic climate and the soils are chalky-clay situated in terraces and small plots. In Rioja Alta the climate is also mainly Atlantic, while the soils are chalky-clay, ferrous-clay or alluvial. Rioja Baja has a drier, warmer climate, thanks to the Mediterranean influence and the soils are alluvial and ferrous-clay.
This, together with the use of different grape varieties and growing practices, allows local winemakers to make a wide range of wines with a different personality, although always within the framework of a perfectly-recognisable common identity.
The wine region's annual production currently stands at 280 to 300 million litres, of which 90% is red, the rest being white and rosé.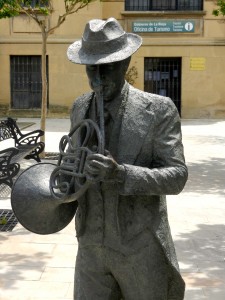 GRAPE VARIETIES
The experience of grape growers and wine makers has resulted in a selection of those grape varieties that best adapt to the region's climate and soils, while producing wine of the highest quality.  The primary goal behind this is to achieve greater competitiveness in white wines and to bring diversity to wine production while maintaining the wines' identity and differentiation.
The grape varieties that are currently authorised by the Regulations of the D. O. Ca. Rioja are:
RED: TEMPRANILLO, GARNACHA, GRACIANO, MAZUELO y MATURANA TINTA.
WHITE: VIURA, MALVASÍA, GARNACHA BLANCA, TEMPRANILLO BLANCO, MATURANA BLANCA, TURRUNTÉS, CHARDONNAY, SAUVIGNON BLANC Y VERDEJO.
TEMPRANILLO
Considered native to Rioja, it is the wine region's most typical grape. It is the origin of the identity of its wines and one of the great grape varieties in the world. It occupies more than 75% of the region's vineyards and it is very versatile from an oenological viewpoint. It is capable of producing wines that can withstand long ageing periods, with a good balance of alcohol content, colour and acidity, and an honest, smooth, fruity mouthfeel that turns velvety as it ages.
Regarding its agronomic performance, it sets well but is highly sensitive to pests and disease and not very resistant to drought or high temperatures. Its name comes from the Spanish "temprano" meaning "early" and it does in fact ripen quite early. There are varying degrees of similarity with the various varieties that are purportedly the same as Tempranillo de Rioja. This ranges from almost complete similarity in the case of Cencibel, Tinto de Madrid, Tinto del País and Tinto Fino to more distant resemblances such as Tinto de Toro and Ull de Llebre. Tempranillo is currently widely planted across Spain because of its proven quality. It is an authorised grape variety in no less than 28 designations of origin, of which 12 consider it as their main variety or one of the preferred varieties.
 
GARNACHA TINTA
This grape variety native to Spain is the most extensively grown variety in the world . In Rioja, it complements the Tempranillo with its aromas and body. With good extract and alcohol content, its wines vary depending on environmental conditions (temperature) and tending practices (production). In warm areas, it produces the kind of wine that has given it its reputation as a rugged grape but in cool areas it produces very interesting, well-balanced wines, particularly rosés. Prone to coulure, this is nonetheless a hardy plant, able to withstand periods of drought, and also fairly resistant to pests and major vine diseases such as rust mites and powdery mildew; hence its popularity among growers. Synonyms found in ampelographic collections around the world include: Abundante, Alicante, Cannonaddu, Cannonaddu Nieddu, Cannonao, Cannonau Selvaggio, Canonazo, Carignane Rosso, Garnaccho Negro, Garnatxa País, Gironet, Granaccia, Granaxa, Grenache Rouge, Lladoner, Retagliad Nieddu, Rivesaltes, Rousillon Tinto, Rousillon,  Tinto Aragonés, Tinto Navalcarnero, Uva di Spagna.

GRACIANO
Graciano is an indigenous grape variety and its cultivation is very limited in other areas. Shown to be an excellent complement to Tempranillo in the ageing process, this grape has a promising future in Rioja, where its planted surface area has increased significantly in the last few years, although it has yet to reach pre-phylloxera figures. It requires clay-limestone soils and a cool climate. It is fairly resistant to mildew and powdery mildew, with low fertility rates and late maturing. It offers wines with a marked acidity and polyphenolic content, ideal for ageing, with a unique aroma that is much more intense than those of other varieties in Rioja. Synonyms found in ampelographic collections around the world include: Bastardo Nero, Bordelais, Cagnolale, Cagnovali Negro, Cagnulari, Cagnulari Bastardo, Cagnulari Sardo, Caldaredou Caldarello, Cargo Muol, Couthurier, Graciano Tinto, Gros negrette, Minustello, Morrastel, Tinta do Padre Antonio, Tinta Miuda, Tintilla, Xerez, Zinzillosa.

MAZUELO
There is evidence that this grape variety has been grown in Rioja for several centuries, but today it barely covers 3% of the wine region's vineyards. It is more productive than other red varieties, albeit particularly sensitive to powdery mildew and needs more heat summation to mature. Although short on flavours, it produces wines with abundant tannins, high acidity and stable colour, all of which makes it a good complement to Tempranillo for wines to be aged for long periods. In the rest of the world it is mainly known as Carignan Noir, given its French origin. Other synonyms include: Babonenc, Bois Dur, Boue Duro, Cagnolaro Tinto, Carignan Mouillan, Carignano, Cariñena, Catalan, Cencibel, Crujillon, Crusillo, Girarde, Legno duro, Manuelo Tinto, Mataro, Mazuelo, Mollard, Monestel, Plant de Ledenon, Roussillonen, Samso, Samso Crusillo, Sopatna Blau, Tinto Mazuela, Uva di Spagna.
MATURANA TINTA
It has small compact clusters and small berries. It is very sensitive to botrytis, with late budburst but early ripening. As for the wine parameters, it has high colour intensity and anthocyanin content, high acidity and medium alcohol content. Sensorially, it stands out for its purple colour, typical varietal aromas of green peppers with balsamic and spicy notes, a well-structured mouth with notable acidity and tartness and medium persistence. It is not grown anywhere else in the world, making it a very interesting grape to support the uniqueness, differentiation and diversity of Rioja wines.
 
VIURA
The main white grape variety grown in Rioja, it is more productive than the red varieties and offers fruity wines with floral aromas and a remarkable acidity, making ideal for both young and aged whites. Oak-aged whites are traditional in Rioja, a practice that has been expanded in the last few years to include the fermentation of the must in barrels with its lees. Better known in Spain as Macabeo, the synonyms most frequently quoted are Alcañón, Forcalla, Gredelin, Lardot, , Macabeu, Queue de Renard and Rossan.
MALVASÍA DE RIOJA
There are many Malvasias in the world, but they are not considered synonyms of Malvasía de Rioja, which has an outstanding potential for producing top quality whites. The clusters are a reddish yellow and produce a very interesting, unctuous, intensely aromatic wine. The only internationally accepted synonym is Sibirat Parent, but in Rioja other names are used which make reference to the reddish hue of the skin in ripe grapes, such as Rojal, Blanca Roja and Blanquirroja.
GARNACHA BLANCA
It is the variety that occupies the least surface area among authorised Rioja grapes. It may well come from a mutation of red Garnacha. It has very similar characteristics to the red Garnacha (alcoholic wines with significant extract but little aroma and acidity). Grown in cool areas, it produces pleasant wines with good acidity. Alicante Blanca, Garnacha, Grenache Blanc and Sillina Lanc are the synonyms found in ampelographic collections.
TEMPRANILLO BLANCO
This variety comes from a natural genetic mutation from a single cane of a red Tempranillo vine , located in 1988 in an old vineyard in Murillo del Río Leza (La Rioja). The clusters are loose and medium-sized and the berries are also medium-sized and slightly flattened. Despite late budding, veraison and ripening come quite early. The total acidity remains high, with marked malic acid content. Its wines have a high concentration of volatile compounds with fruity aromas. Its wines offer excellent sensorial characteristics, just like the red Tempranillo. They are yellow-green with characteristic intense aromas of bananas and citrus and tropical fruit, underscored by floral and terpene notes. Well-balanced mouthfeel with structure and medium-long persistence. It is not found anywhere else in the world.
MATURANA BLANCA
It is the oldest grape variety known in Rioja, mentioned as early as 1622. It is quite a fertile variety with small clusters and small, elliptical berries. It has also proved to be precocious in all phases of development. It has the disadvantage of being particularly sensitive to botrytis. The most notable characteristics of Maturana Blanca are its low pH and high acidity, with significant tartaric acid content and low potassium content. These aspects compensate for the high alcohol content that can be reached with this variety. Sensorial assessment results are positive. Maturana Blanca wines have been described as greenish-yellow, with fruity aromas of apples, bananas and citrus fruits, and herbal notes. Light yet balanced on the palate, with tangy sensations and a slightly bitter finish of medium persistence.
TURRUNTÉS DE RIOJA
The name Turruntés often leads to confusion with the Galician variety Torrontés and it has nothing to do with the grape variety grown in Argentina. According to DNA tests, the only similar variety would be the Albillo Mayor found in Castile-Leon. The cluster is medium-sized and compact, with medium-sized, spherical berries. Those with greater sun exposure may acquire a golden colour with dark spots. It features early budding and ripening. Low alcohol content and high acidity, with a low pH and significant concentration of tartaric acid with low potassium content. The wine is described as pale yellow with greenish hues, having fruity aromas with dominating notes of apples, with a vegetal, grassy nature. Light on the palate, acidy and slightly bitter, with medium-short persistence.
INTERNATIONAL WHITE GRAPE VARIETIES:
CHARDONNAY
It is the world's most popular variety, equivalent to Cabernet for red wines, the most widely-grown grape for quality white wines across the world. Originally from Burgundy, it is also known as Morillon blanc, Beaunois and Weisser, although Chardonnay is by far the most international version. The vine is not very productive, with small- to medium-sized clusters, which produce yellow wines with green hues of outstanding finesse and aromatic intensity. Significant dry extract and low oxidation levels make this an ideal variety for barrel ageing.
SAUVIGNON BLANC
It is part of the international cast of quality white wine grapes, considered the finest variety among French white grapes after Chardonnay. It has very small clusters; compact and winged, with a very short peduncle. It has small, spheroid berries with skins of medium consistency and a greenish-yellow colour. Its pulp is quite consistent and intensely aromatic. The leaves are small, orbicular and bulky. The underside of the blade is fluffy and forms balls. It produces elegant, dry, acidy wines.
VERDEJO
A grape native to the D.O. Rueda, it is the Spanish white variety that has undergone the greatest development. It has small clusters, with a visible peduncle and medium-small, short, elliptical berries, with a thick, green-yellow skin and a greenish pulp. The leaves are orbicular and a somewhat shiny dark green. The aromas and flavours of the Verdejo wine has nuances of herbal scrubs, with fruity hints slightly sweetened by a powerful alcohol content offset by an excellent acidity. The extract is perceptible from its volume and its characteristic bitter touch, which projects a flash of originality in the mouth, accompanied by great fruit expression.